Implantology


A solution for a harmonious dentition and everyday comfort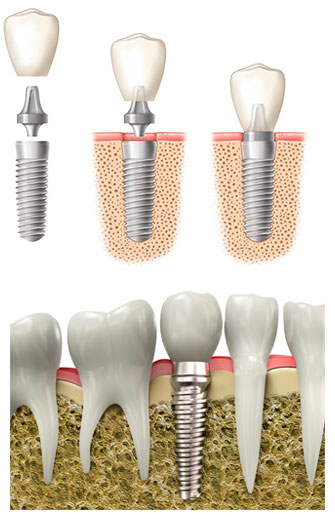 A solution for a harmonious dentition and everyday comfort
To replace a natural tooth with a dental implant or to replace several teeth with dental implants is an effective and aesthetic solution.
Dental implant, made of titanium, is an artificial tooth root which is fixed directly in the jaw bone. It is generally used to replace a tooth pulled or too damaged and whose root was extracted. The dental implant is topped with a new prosthesis which imitates a new tooth which has the same anatomy and function as a natural tooth.
Dental implants are open to all adults (whose tooth growth is over). However, some diseases can sometimes present contra-indications.
To opt for dental implants is to avoid a degeneration of the existing natural teeth, protect your health, maintain aesthetic qualities, experience comfort when chewing and get a natural smile back …
Health insurance does not cover dental implants.
However, you can contact your insurance company who may provide specific annual packages for dental implants …
Check with your insurance company.